Surge Protection Device for Wind Turbine
In wind turbine system, there are many vulnerable electronics equipment which will be damaged by lightning strikes or transient over-voltages, such as:
The control system, including sensors, actuators, and the motors for steering the equipment into the wind etc.
The electronics, including transformer, frequency converter, switchgear elements, and other expensive, sensitive equipment.
Generators, battery subsystem etc.
Properly installed surge protective devices (SPDs) will minimize the potential impact of lightning events in wind turbine.
SPD for Generator Lines in Wind Turbine
TUV certified non-pluggable T1+2 SPD with high energy MOV and TSG technology

High lightning current discharge capacity up to 25kA 10/350μs

Short circuit withstand capability 25kArms

Degradation indication & optional remote signal contact

Lower voltage protection level

Comply with EN/IEC61643-11, UL 1449 4

th

, IEEE C62.41, CSA C22.2
Model
B25VG440-S
B25VG440
B25VG760-S
B25VG760
Compliance
EN/IEC 61643-11, UL 1449th
Category EN/IEC/UL
T1+2/ Class I+II /Type 1ca
Nominal Voltage
Un
400V
690V
Max. Continuous Operating Voltage (AC)
Uc
440V
760V
Technology
High energy MOV & TSG(Trigger spark gap) technology

Thermal disconnector

Ports/Protection Mode
1 / L-PE or L-N or N-PE
Lightning Impulse Current (10/350μs)
Iimp
25kA
Nominal Discharge Current (8/20μs)
In
25kA
Max. Discharge Current (8/20μs)
Imax
100kA
Voltage Protection Level
Up
≤2.4kV
≤3.5kV
Voltage Protection Level @ 5kA
Ures
<2.0kV
<2.5kV
Temporary Overvoltage TOV
—Withstand Mode
Utov
690V/5s
1000V/5s
Residual Current
IPE
No
Follow Current
If
No
Short-Circuit Current Rating per IEC 61643
Isc
25kArms
Response Time
tA
≤25ns
Backup Fuse (only required if not already provided in mains)
250A gL/gG
Environment
Temperature Range: -40ºC ~ +80ºC; Humidity: ≤95%;

Altitude: ≤2000m

Cross-Section of Connection Wire
Single-strand 35mm2; multi-strand 25mm2
Mounting
35mm DIN-rail in accordance with EN 50022/DIN46277-3
Enclosure Material
thermoplastic; extinguishing degree UL94 V-0
Degree of Protection
IP20
Installation Width
2 modules, DIN 43880
Failure Indication /Status
RED- Failure
Remote Alarm Contact
Yes
No
Yes
No
Approvals, certification
TUV, CE
Additional Data for Remote Alarm Contacts
Remote Alarm Contact Type
Isolated Form C
Switching Capability Un/In
AC: 250V/0.5A; DC: 250V/0.1A; 125V/0.2A; 75V/0.5A
Max. Size of Connecting Wire
Max. 1.5mm2 (or # 16AWG)
SPD for Power Supply in Wind Turbine
Pluggable T2 SPD with high energy MOV technology for wind turbine

High reliability due to global patented thermally protected with special arc-extinguish device (TPAE technology)

High surge current discharge capacity up to 40kA 8/20μs

Pluggable module for easy replacement

Degradation indication & optional remote signal contact.

Prewired for three phase 3W+G network systems such as TN-C etc

Comply with IEC/EN 61643-11, UL 1449 4

th

, IEEE C62.41, CSA C22.2

SP×××/3P-S

SP×××/3PT-S
Model
SP440/3P-S
SP760/3P-S
SP860/3PT-S
Compliance
EN/IEC 61643-11, UL 1449th
Category EN/IEC/UL
T2/ Class II /Type 1ca
Nominal Voltage
Un
400/690Vac
Max. Continuous Operating Voltage (AC)
Uc
440V
760V
860V
Technology
High energy MOV technology; TPAE technology (patented)
High energy MOV & GDT technology; TPAE technology (patented)
Ports/Protection Mode
1 / L-PEN
Nominal Discharge Current (8/20μs)
In
20kA
Max. Discharge Current (8/20μs)
Imax
40kA
Voltage Protection Level
Up
≤2.4kV
≤3.0kV
≤4.0kV
Voltage Protection Level @ 5kA
Ures
<2.0kV
<2.0kV
<2.5kV
Temporary Overvoltage TOV
—Withstand Mode
Utov
582V/5s
900V/5s
1200V/5s
Residual Current
IPE
<0.1mA
<0.1mA
No
Follow Current
If
No
Short Circuit Current Rating per UL 1449
Isccr
200kArms
Response Time
tA
≤25ns
Backup Fuse (only required if not already provided in mains)
125A gL/gG
Environment
Temperature Range: -40ºC ~ +80ºC; Humidity: ≤95%; Altitude: ≤3000m
Cross-Section of Connection Wire
Single-strand 35mm2; multi-strand 25mm2
Mounting
35mm DIN-rail in accordance with EN 50022/DIN46277-3
Enclosure Material
thermoplastic; extinguishing degree UL94 V-0
Degree of Protection
IP20
Installation Width
3 modules, DIN 43880
4 modules, DIN 43880
Failure Indication /Status
RED- Failure
Remote Alarm Contact
Yes
Approvals, certification
CE
Diagram
1
1
2
Additional Data for Remote Alarm Contacts
Remote Alarm Contact Type
Isolated Form C
Switching Capability Un/In
AC: 250V/0.5A; DC: 250V/0.1A; 125V/0.2A; 75V/0.5A
Max. Size of Connecting Wire
Max. 1.5mm2 (or # 16AWG)
Surge Protection Solution for Wind Turbine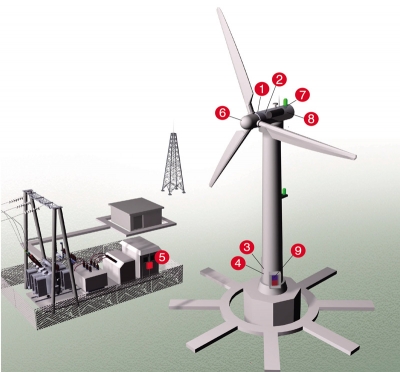 Power System
Installation Location
Device to be Protected
Prosurge Model
Generator Lines 400/690Vac, 3-phase, 3-wire+ground (or TN-C)
Nacelle
1
Stator of Generator
SP×××/3P-S
2
Rotor Winding of Generator
SP×××/3PT-S
Tower Base
3
Main Power Service
SP×××/3P-S
4
Inverter
SP×××/3PT-S
Substation
5
Low Voltage Side of the Transformer
B××VG××
Power Supply 230/400Vac, 3-phase, 3-wire+ground (or TN-C)
Hub
6
Pinch-control Cabinet
SP×××/3P-S
Nacelle
7
Aircraft Warning Light
SP×××/2P-S
8
Nacelle Control Cabinet
SP×××/3P-S
Tower Base
9
Tower-base Control Cabinet
SP×××/3P-S
Email Prosurge and Get Reply in 2 Hours
see how competitive our price is : )
Live chat with us by clicking the chat button on the bottom right corner
Fill the Contact Form and Get Reply in 2 Hours
+86 186 765 28175 (Mobile / WhatsApp / Wechat / Skype)
Live chat with us by clicking the chat button on the bottom right corner
For North American customers, please contact via
For urgent technical consultation, please contact Bill Goldbach +1 727 488 9544