UL 1449 4th Ed Type 1CA DIN-rail SPD for AC Power Supply – SP Series
Prosurge SP series DIN-rail SPD is type 1CA SPD according to UL 1449 4th designed for low-voltage power supply system surge protection, especially for point of entry (Category C, D, ANSI/IEEE C62.41) and sub-circuit (Category B, ANSI/IEEE C62.41) protection.
SP series features Prosurge's global patented fail-safe and self-protected technology, offering quick thermal response and perfect cut-off function and providing fast and reliable protection for various power supply systems.
Built with window fault indication and optional remote alarm contact, it can monitor the operating status of the SPD itself.

UL 1449 4th DIN-rail Type 1CA SPD for DC Power / Photovoltaic System
Prosurge SPV series is a Type 1CA SPD according to UL 1449 4th Ed, designed for Photovoltaic system DC side protection against the damage from surges caused by lightning and other electrical sources.
Meet worldwide standards: UL 1449 4th, IEC 61643-11: 2011 & EN 50539-11: 2013
UL recognized type 1CA SPD for photovoltaic system
Large surge capacity up to 50kA 8/20μs
Short circuit current rating (SCCR) up to 100kA – tested without external CB or fuse
Pluggable design with window fault indication
Remote alarm signal optional
Global patented thermal disconnector design with arc extinguishing device, fail-safe & and self-protected, quick thermal response and perfect circuit cut-off function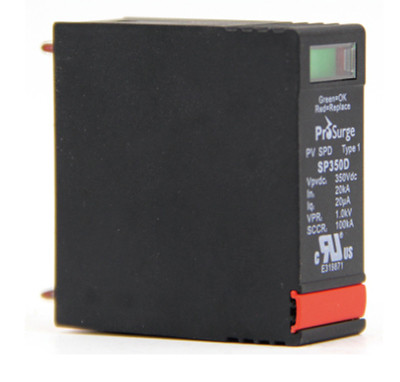 UL 1449 4th Type 1CA SPD Modules for DC/PV
Prosurge's SPM series are surge protection modules which are heavy MOV based devices and are constructed with Prosurge thermal protection and arc extinguishing technology. They can be easily integrated in or mounted on PCB and are the best choice for global customers to develop PV SPD at minimum cost.
UL recognized type 1CA SPD for PV/Photovoltaic system
Meet IEC 61643-11: 2011 & EN50539-11: 2013
Quick thermal response and perfect circuit cut-off function due to special thermal disconnector design with arc extinguishing device
Provide two ways to install on PCB: permanent soldering or pluggable
Floating remote signalling contact for fault indication while additional uses of PVD_Base
Rating:

Max. Permitted DC Voltage (Vpvdc): 85-825Vdc
Surge capacity (8/20 μs):50kA
SCCR:100kA – tested without external CB or fuse

                        PCB Installation Illustration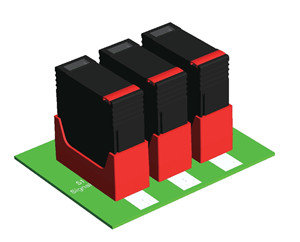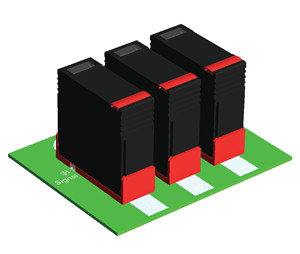 Email Prosurge and Get Reply in 2 Hours
see how competitive our price is : )
Live chat with us by clicking the chat button on the bottom right corner
Fill the Contact Form and Get Reply in 2 Hours
+86 186 765 28175 (Mobile / WhatsApp / Wechat / Skype)
Live chat with us by clicking the chat button on the bottom right corner
For North American customers, please contact via
For urgent technical consultation, please contact Bill Goldbach +1 727 488 9544